Learning to code is a great initiative for the kids of this generation. But the kids who have taken this voyage beyond just learning. With the help of their parents and teachers, students started to make programming much more seriously by participating in various coding contests. One such coding contest that's in the hype is the Google Code to Learn Contest.
Hosted by Google itself, the Google Code to Learn contest is made for the young, and creative minds. Targeted to those who want to make an impact in this world with their coding abilities.
This initiative by Google is a great move to promote coding to the younger generation. So that they can know how to solve problems better and in the future, know what to expect out of this whole coding ecosystem.
In this article, we discuss the various aspects of this contest and how parents and teachers can help students to get on with this adventure.
What is Google Code To Learn Contest?
Google Code to Learn Contest is a competition hosted by Google, that allows young school students from different parts of the country to compete for coding with others.

This coding contest encourages the young generation to learn computer coding and improve their skills in the circle of technology so that they can imbibe a better understanding of the industry earlier than most of the masses.
This contest develops various coding skills in the children. But the end goal of this initiative is to make the children creative, innovative, and skillful.
Google Code to Learn Contest 2021 Announcement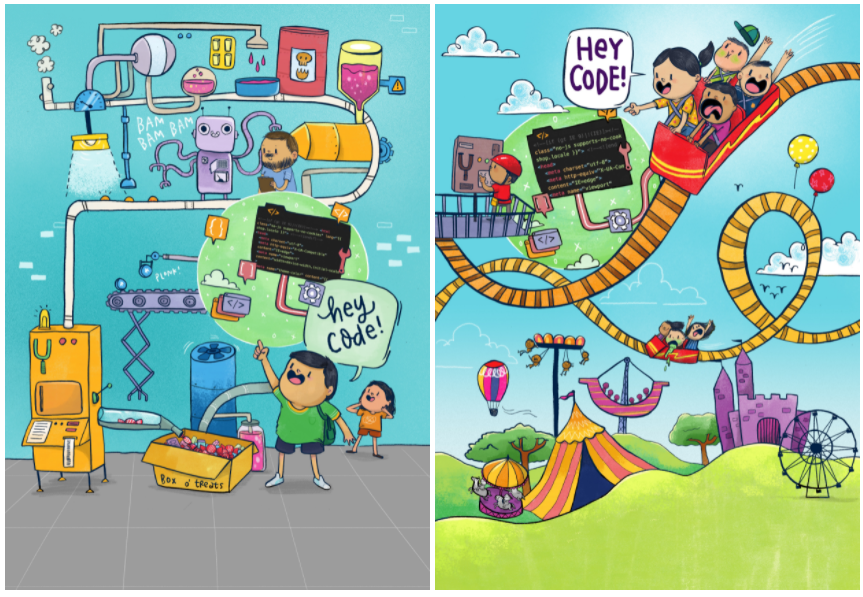 Google has recently come up with this year's version of the contest. Now kids can participate in the contest by visiting their website or by clicking the REGISTER button below.
Please NOTE: Project submission deadline: 25th October 2021, 11:59 PM
To know more about Google Code to Learn Contest, click here.
Who can participate in this Contest?
This contest mainly targets the younger generation to code. Mainly, students from the classes of 5th to 12th. The students can participate with the help of their parents or teachers in school.
Furthermore, these students are divided into 3 groups depending on their age and class. Also, each group is given different languages to build their project for the contest. The groups are:
Group 1: Class 5 to Class 8 (Use Scratch, App Inventor to create fun and exciting projects)
Group 2: Class 9 & Class 10 (Use Scratch, App Inventor, and Google Cloud AutoML to create Machine Learning Projects)
Group 3: Class 11 & Class 12 (Google Cloud AutoML to create Machine Learning Projects)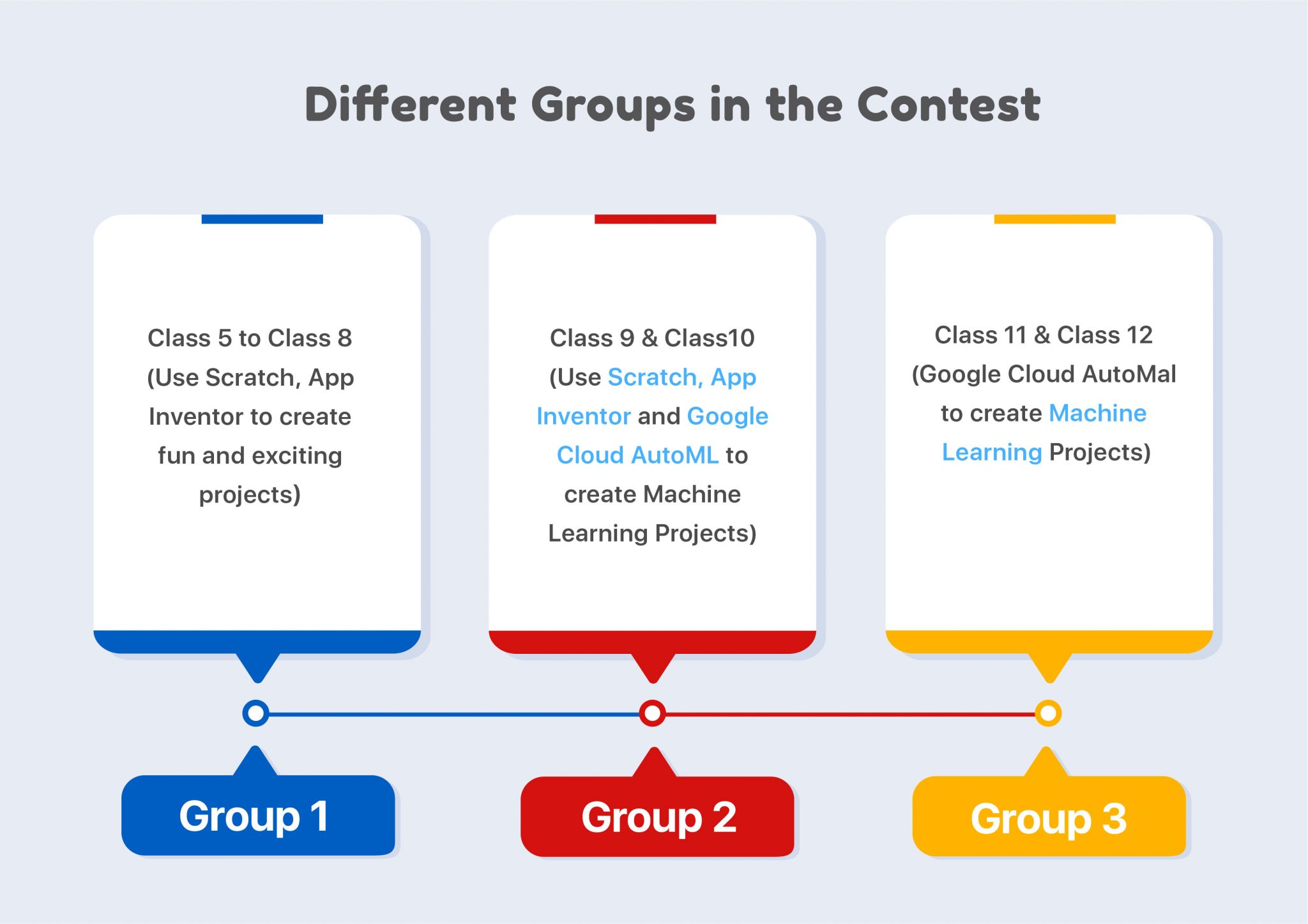 Students belonging to Group 3 cannot submit projects made on Scratch and App Inventor.
Main Focus of Google Code to Learn Contest
Build Reality with Code
This point aims to create systems using coding to solve real-world issues. It emphasizes more on the physical problems that can be solved using coding. For example, if there is a physical disability in a person, technological resources will be used to solve this inability.
Build Dreams with Code
Coding will make dreams real. The things that are dreams for many will come true using technology. For example, with the help of VR (virtual reality), many people can see and experience things that are hard to experience in real life.
Overview of the Contest
To know more about the contest, let's dive deeper into the model of this contest.
Google Code to Learn Contest is organized once every year by Google LLC. Students from different ends of the country participate in this contest to showcase their coding skills.
As we know it is very important to make today's generation aware of the technology they consume. That's why it's equally important to teach them how these entities work. So that in the future, they do not only consume them but also create them.
This contest aims to build a stronger foundation for computer science education in the country.
As the projects are submitted by different groups of students, the evaluation of these projects is done by keeping several criteria in mind. For example, Group 1 builds projects based on Scratch and App Inventor. These projects are evaluated based on creativity, idea, and presentation.
Group 2 builds projects written in a more standard way and is made by a more mature group of students. These projects are evaluated based on their application, whether they can solve real-world problems, and proper coding concepts.
Group 3 belongs to the age range of adolescents. Their projects are of a much higher level. They revolve around concepts of Machine Learning and advanced algorithms. These projects are evaluated based on their difficulty, algorithms, originality, and their real-life applications.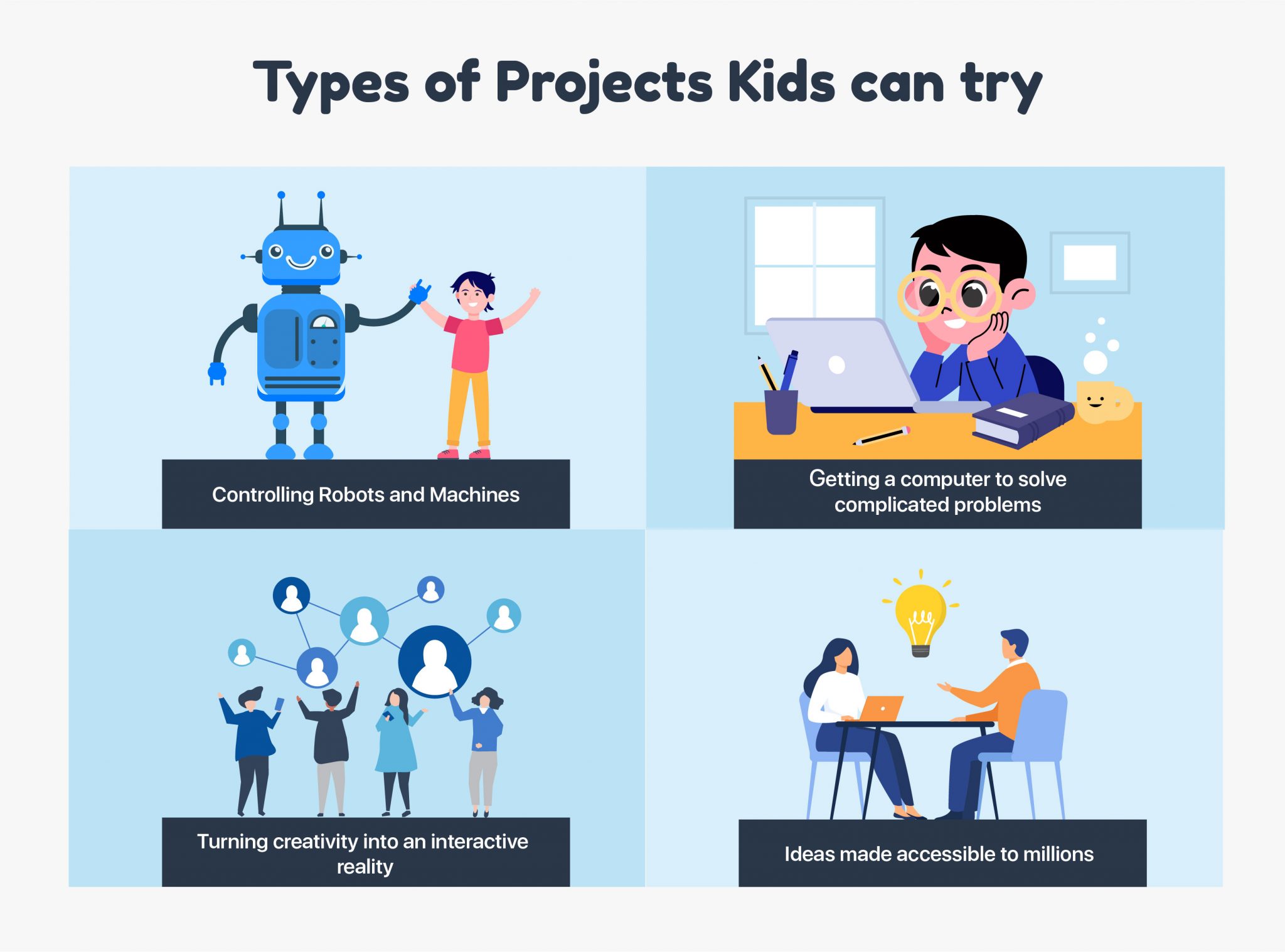 The whole process is evaluated by the best panel of judges coming from various domains of the tech industry so that the balance of the judgment of the program is maintained.
After receiving the projects from different participants, they are shortlisted. From each group, two projects get shortlisted for the final round. Out of which, one winner is chosen from each group. That means a total of three winners are chosen from the entire contest.
Considering the prizes of this coding contest, both the finalists from each group get the Certificate of Achievement. And the winner from each group gets a Google Chromebook or a prize equivalent to that.
Registration Process of the Coding Contest
The registration process for Google Code to Learn Contest is very simple. And it goes like this:
Visit the official site of the contest: codetolearn.withgoogle.com
Teachers or Parents can put up to five participants from each group.
Fill up the required details of the students for the same.
Hit the Save button to register yourself for the Contest.
It is really important to teach students to code. And if they get interested in doing so, they'll surely get ahead of the race and probably win the contest easily.
To know more about Coding for Kids, visit Codevidhya.